Little Standard Oil history
By Patrick Moore (USA)
In the late 1800's and very early 1900's, Standard Oil was owned by J. D. Rockefeller. They had a monopoly on oil refining and distribution throughout the US.
In 1911, the US Supreme Court decided that the monopoly was not in the best interest of the public, and ordered Standard to dissolve into 30 or so separate companies with no ties to the others whatsoever. Of that 30 or so, only 10 were in the refining and marketing business.
They were:
Standard Oil of New York (now part of Mobil)
Standard Oil Of New Jersey )\
Standard Oil of Pennsylvania ) Esso Marketers
Standard Oil of Louisiana )/
Standard Oil of Kentucky (later purchased by Standard/California)
Standard Oil Of Texas (merged with Standard/California)
Standard oil of California (now Chevron)
Standard Oil of Ohio (Sohio)
Standard Oil of Nebraska (merged with Standard/Indiana)
Standard Oil of Indiana (now Amoco)
Each of these new companies were assigned territories as small as one state (Sohio was only allowed to market in Ohio) or as large as 14 states (Standard/Indiana held the entire midwestern US).
Naturally, some of these companies would merge (Standard of Texas and California would merge in the 1920's). But the most famous of the mergers came when Standard of New Jersey purchased Standard/Louisiana, Standard/Pennsylvania, Colonial Beacon Oil Co., a 50% share in Humble Oil in Texas and Kesbec, Inc. to form Esso Marketers.
Esso Marketers first used the Esso trademark in the 1920's. Early roadmaps from this period bear the ad "Specify either 'Standard' or 'Esso' gasoline", with visible pumps having both "Esso" and "Standard" globes. By 1935, Esso began using the Esso trademark exclusively in its marketing areas except Texas. (Although the single name "Esso" was being used, the individual companies still clung to their regional identity.)
Esso purchased Carter Oil Company, giving them a presence in the Midwest and Pacific Northwest, thereby competing against Standard/Indiana and Standard/California.
In 1946, Esso combined its Louisiana, Pennsylvania, New Jersey, and New England (with permission from Socony Mobil)operations into one single name: "Esso Standard Oil Company". This would serve Esso for the next 14 years.
In 1960, Esso wanted to expand its operations into the southern US. To do so, they had to change their name again. This time, Esso took the name of its Texas operations, "Humble Oil And refining Company", and rebranded all of its Carter stations "Enco", after Humble's slogan at the time, "America's leading ENergy COmpany". Humble opened up Esso stations in Georgia and Florida. Standard of Kentucky sued Humble, claiming that Esso was a derivative of Standard Oil and had no right to use that name in their territory. To comply, Humble sent each station in Georgia and Florida stickers to cover the Esso logo. These stickers had a tiger's face on it. Soon, stations began asking Humble for more stickers- the public wanted them! This soon led to one of Humble's most successful ad campaigns ever- "Put A Tiger In Your Tank". Humble eventually used "Enco" in the South, but Standard/Kentucky took the case to the Supreme Court, and won.
If Humble wanted to go nationwide, it had to adopt a name that it could use without fear of litigation. Esso was out of the question, Enco meant "stalled car" in Japanese, so Humble had to come up with a new name altogether. It had to be easy to remember and inoffensive in any language. In 1973, Humble oil became Exxon corporation; all Esso, Enco, and Humble stations in the US were converted to Exxon. Esso's overseas operations were unaffected.
1936
1945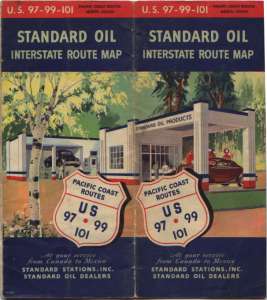 1945
1947
1955
© 1998 Patrick Moore and Pascal Pannetier Vers 1.00